Clean Wall Technology: 
Simple. Practical. Clean.
The COVERPLUG™ is a durable, molded, and paintable plastic panel that plugs right into an electrical socket to cover the entire outlet. This innovative outlet cover is held securely in place by posts on the back that align with the ground openings and require no tools for installation or removal. They are made in the USA and use a specially designed plastic that is easily paintable to match your wall color. While originally designed as a child safety product, The COVERPLUG™ extends into commercial applications through its Clean Wall Technology.
The COVERPLUG™ is useful in a wide variety of commercial settings to streamline the look of a room and minimize visual distractions. In newer buildings, outlets are typically spaced every six feet, providing a distracting draw-of-the-eye and diminishing the elegance of a setting. Especially useful in spaces on display and multi-purpose rooms with constantly changing needs, the COVERPLUG™ allows for flexibility while maintaining an unblemished look. Interior Specifier's love the COVERPLUG™ because it is the final piece to tie the room together. With its simple installation and seamless integration, this product provides a space with outlets that are there when you need them and hidden when you don't.
The functionality of COVERPLUG™ extends from the home to the office to any commercial or public space.
Here are just a few suggested uses: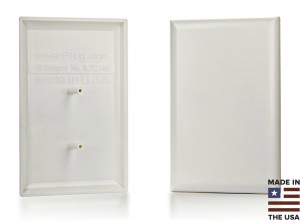 Professional and Office Buildings: Create seamless walls for professional looking offices and conference rooms
Multi-Family Building Managers: Protect your residents from harm and the owners from liability
New Home Builders: Present an elegant space free from visual clutter
Art Galleries: Minimize distractions drawing more attention to the displays
Retail Establishments: Hide unsightly outlets not being used in current displays and storefronts
Restaurants and Bars: Create cleaner walls and a safer environment by hiding unused outlets
Hospitals: Cover unused outlets to increase safety and create a calming, less cluttered space
Venues: Paint COVERPLUG™ outlet covers to match walls and make outlets virtually disappear
Create a more professional and beautiful space today!
Cover wall outlets with the only paintable outlet cover. Out of sight, out of mind!